Kitkat cake/pastries.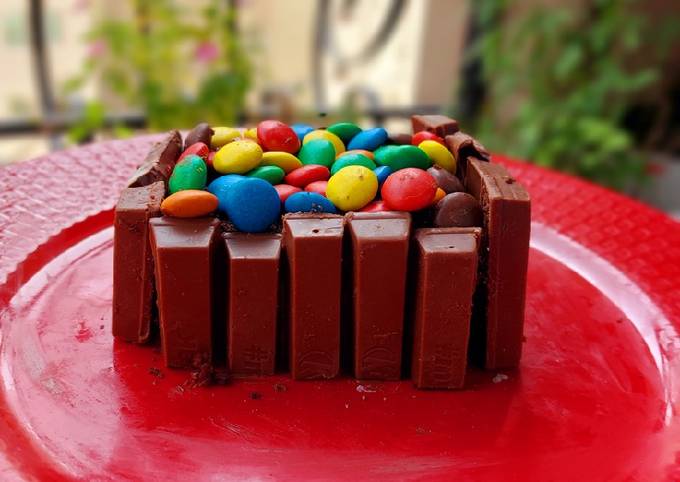 You can cook Kitkat cake/pastries using 12 ingredients and 9 steps. Here is how you cook that.
Ingredients of Kitkat cake/pastries
It's 1 cup of wheat flour.
You need 1 of and half cup jaggery powder.
Prepare 1 tsp of baking powder.
You need 1/2 of baking soda.
It's as needed of Milk.
Prepare 1 tsp of cocoa powder.
Prepare of Few drops of lemon juice.
Prepare 2 tsp of curd.
Prepare 1 tsp of oil.
It's 1 cup of nutella.
It's 2-3 pack of kit kat.
Prepare 2-3 of M&M chocolate.
Kitkat cake/pastries step by step
Take a sieve over the large mixing bowl. Add all ingredients and sieve them together..
Take another bowl and add oil, curd mix it well,Slowly add dry mixture little little and mix it properly. Add milk as needed and make a smooth batter..
Add vanilla essence and lemon juice and mix it properly..
Grease the tin with butter and dust it with dry flour.Fill the tin with batter and tap the tin two three time to release the air..
Pre heat the oven and bake the cake for the 180° for 35 to 40 min. Check the cake with toothpick and if toothpick inserted comes clear then your cake is ready.
Allow cake to cool and remove it from the tin.
Cut the cake from the middle and make 2 layers and spread the sugar syrup on both sides of the cake layer..
Spread the nutella on both sides of the cake layer and keep the cake on one another and finally again spread the nutella on the top of the cake and also on all sides of the cake and keep it in refrigerator..
After 10 min remove the cake from refrigerator and then stick the kit kat chocolate all round the cake and pour M&M on top of the cake and your cake is ready to crave your sweet..