Sticky Pecan Baby Cakes.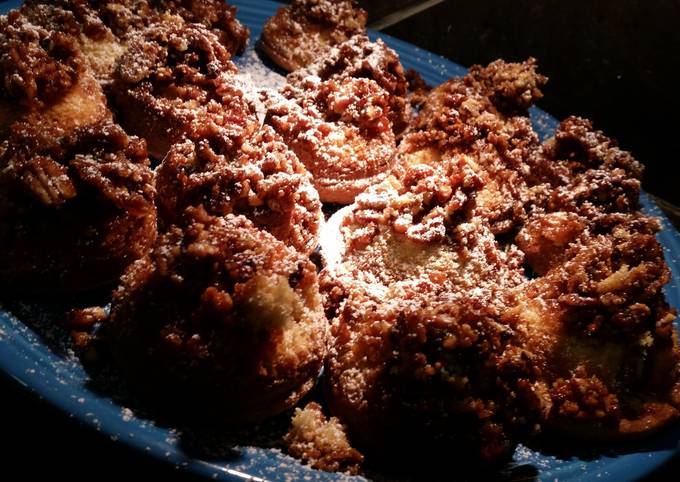 You can have Sticky Pecan Baby Cakes using 13 ingredients and 6 steps. Here is how you achieve that.
Ingredients of Sticky Pecan Baby Cakes
You need 2 1/2 cup of all-purpose flour.
You need 1 tsp of baking powder.
It's 1/2 tsp of backing soda.
It's 1/2 tsp of salt.
It's 2/3 cup of packed brown sugar.
Prepare 1/2 cup of butter.
You need 1/3 cup of honey.
You need 1 1/2 cup of chopped pecans.
Prepare 3 of eggs.
You need 2 cup of granulated sugar.
Prepare 1 cup of vegetable oil.
Prepare 3/4 cup of Half and half.
You need 2 tsp of vanilla.
Sticky Pecan Baby Cakes instructions
Preheat oven to 350°F. Lightly coat 12 jumbo or 24 regular cupcake pans with cooking spray..
In a medium bowl stir together flour, baking powder, baking soda, and salt; set aside..
In a medium saucepan combine brown sugar, butter, and honey. heat and stir over medium heat about 2 minutes or until smooth remove from heat. Stir in pecans and set aside..
In a large mixing bowl combine eggs and sugar. Beat with an electric mixer on high spped about 3 minutes or until thick. add in Oil, Half & Half, and vanilla: beat until combined. Gradually add flour mixture, beating on low speed until smooth..
Fill bottom of each muffin cup with pecan mixture. Spread out to coat bottom. Spoon in batter into each cup about 3/4 full..
Bake for 25 to 30 min or until a toothpick inserted in center comes out clean. Cool cakes in pan on wire rack for 5 minutes. remove by using a sharp knife to loosen cakes from sides of pan. Spoon any remaining pecan mixture on top of cakes. serve warm or let cool..